It's April, which means most places in the US are experiencing heavy rainfall day after day. You may be feeling added stress if you're moving in the rain. Protecting your furniture and home, while staying safe, is key to moving in bad weather.
Here are some moving in the rain tips if you are planning on hiring movers or moving yourself.
Moving in the Rain with Movers
If you are planning on hiring professional movers, then you have less to be gloomy about. Experienced movers have performed countless moves in the rain and know the best practices to keep your furniture and home protected.
Extra preparation before your move will save you the most time and money. Here are some things you should do before moving in the rain.
Clear All Walkways Inside & Outside
Your movers will already be cautious moving in bad weather, adding obstacles to their path could lead to furniture getting damaged or someone getting hurt.
Make Sure Everything is Packed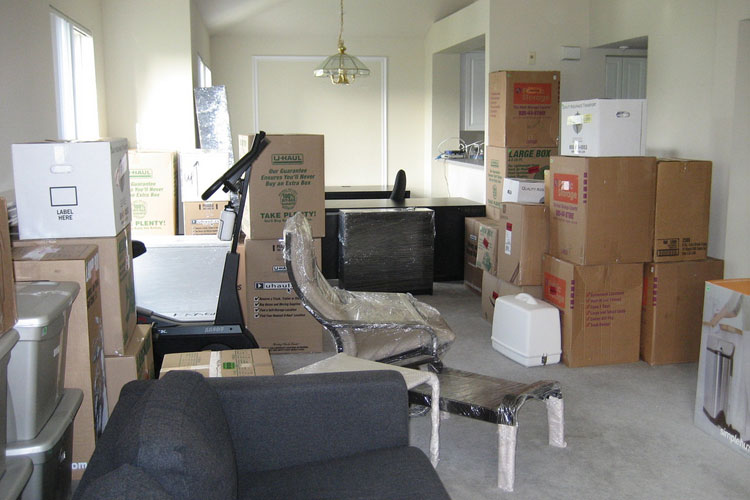 Seal all boxes using quality tape. Wrap artwork in plastic wrap or a mirrorpack box. Place clothing in trash bags or a wardrobe box. Prevent water from getting into your packed items. It may be a couple weeks before you unpack every item. You don't want to open a box full of water damage.
Also, clearly label you boxes and furniture so the movers know exactly where you would like your items placed.
Lay Down Floor Protection
Investing in tarps and carpet shield will keep your floors dry and keep you movers working more efficiently. Most professional moving companies have carpet shield available per request and use moving blankets to keep walkways covered.
If you are moving locally, the added time it takes for the move team to lay down protective materials will cut into the time spent moving. Have floor protection ready before the move team arrives to save on the total time of your move.
Also, make sure floor protection is tightly secured to the floor to prevent anyone from tripping.
Shrink Wrap Furniture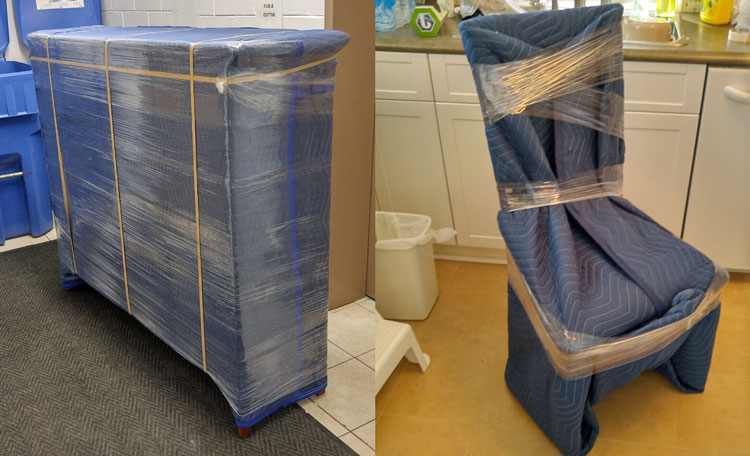 Protecting furniture using shrink wrap will save the move team prep time. Metal, wood, and leather furniture will all need to be wrapped before leaving your home. The move team will use a combination of shrink wrap and pad wrap to keep your furniture dry and safe during bad weather. The more furniture that is warped, the more time the movers can focus on moving.
Point Out Anything That Needs Extra Care or Not to be Moved
Let the move team know during the walkthrough if there are any items highly prone to water damage. If you do not want something moved, point it out to the movers before they start.
Some Additional Information About Moving in the Rain with Movers
If there is a heavy downpour during your move, the move team may pause to let the rain lighten up. During this time they should be working inside to wrap and disassemble furniture. Also, expect the drive to take a little longer between your old and new home.
Moving in the Rain Yourself
All of the tips provided for moving in the rain with movers can be applied when moving yourself. Here are some additional tips for moving yourself while it's raining.
Be Careful Using the Truck's Ramp
If you are renting a U-Haul or other brand of rental truck, be careful when going up and down the ramp. Rental truck ramps are often narrow and have less traction than commercial moving trucks. When moving in the rain it is very easy to slip or lose your footing on the ramp.
Remember to check the rental moving truck beforehand for leaks in the roof and floor.
Wear the Right Clothes
Make sure you are covered in weatherproof clothes from head to toe, you will be making a lot of trips to and from the moving truck. Rain jackets, boots, and a hat. Investing in some rubber grip moving gloves will make holding on to wet items much easier.
Designate Inside and Outside Movers
If you're worried about tracking in water and mud, then you might have to split up the team. Have a few people outside bringing items to the front door and a couple people inside placing furniture where it needs to go. Just hope you don't draw the short straw and end up outside.
Keep Boxes and Padded Furniture as Dry as Possible
Avoid setting boxes or furniture down outside, even for a minute. Pads and cardboard absorb water very quickly. The water will stay trapped with your items in the truck until you reach the unload.
How to Move a Mattress in the Rain
Start by wrapping your mattress using a mattress bag, they come in all standard sizes. Remove as much air within the bag and tape the open end using high quality packing tape. The mattress will be very slippery if it comes in contact with water. You want to invest in a moving strap or Forearm Forklifts. This will allow you to run the strap underneath the mattress so you have something to grab onto. Now you can easily transport the mattress upright out the house and to the moving truck. Since the mattress is already wrapped, you can place it directly on the floor of the moving truck.
Hopefully these tips will brighten up your rainy move day and keep your stuff dry. Just remember to take it slow when moving and driving. Good luck!