Packing shoes when moving may seem like one of the few items you can throw in a box and seal up. But spending a little time to organize and pack your shoes correctly can prevent scuff marks and mix ups. Here are a few quick tips to make sure your shoes arrive in good condition and you can get them right away at your new home.
Pack and label your shoes by location
When packing shoes, think about where they will end up at your new home. Instead of gathering all the shoes in the house and packing them in a box labeled "shoes", separate them by location. Have one box for garage shoes, one for closet shoes, and another for the master bedroom. This will allow you to keep your shoes organized while unpacking.
Throw away old shoes and clean the others
Moving is the best time to purge the things you don't need. Throw away the shoes with holes and donate the ones you never wore. It never hurts to get rid of things you don't need when moving.
Clean the shoes you do keep. If you have the time to clean up scuff marks or polish dress shoes before your move, you can enjoy them out of the box at your new home.
Wrap your expensive shoes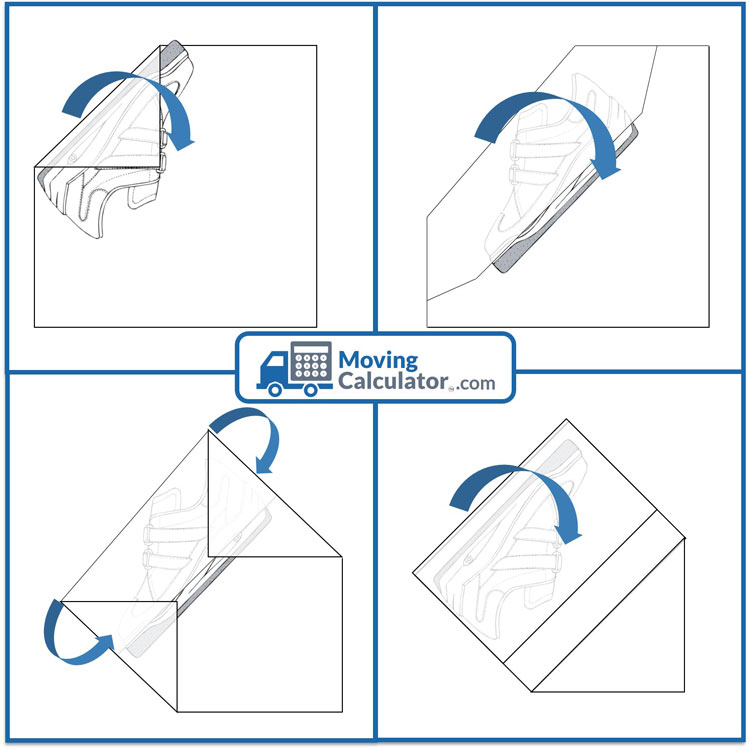 Wrap dress shoes and expensive shoes individually using packing paper. Start with a single shoe placed in the corner of a piece of packing paper. Roll the shoe once with the paper, fold the corners, and continue to roll until the shoe is covered.
This method will keep your shoes safe from one another and allow for extra padding when packed into a moving box. Fill a small or medium box to the top and add a couple of extra sheets of packing paper to prevent the box from being crushed during transportation.
Avoid using newspaper when packing shoes, because the ink may seep into the material.
Use original shoe boxes when packing
If you have your original shoe boxes you can pack shoes in them using the method above. The original shoe boxes can then be consolidated into medium or large boxes. Consolidating shoe boxes will cut down on the amount of trips you or your movers will have to make during your move.
Don't pack all your shoes
Keep a few pairs of shoes available up until your move date. You never know when bad weather or an unexpected event may come up and your running shoes may not cut it.
We hope these quick tips will help when packing shoes for your next move. Let us know in the comments below if you have any questions or tips of your own.