Everyone likes savings. Moving companies often have different programs and discounts you may qualify for. Check out the "quality movers" in your area to see if they offer any moving discounts. Avoid hiring the "discount movers". Sometimes the cheaper movers will end up costing you more by going over estimate and causing damages. Stick with the professionals and follow these 10 ways to get discounts from moving companies to save on your next move.

1. Check your local moving company's websites or social media for discounts
When researching local moving companies in your area, keep in mind that that they may offer discounts to for customers who find them online. Check their website and social media for printable coupons and special offers. The approach may take some digging through several pages or through their social feeds to find a discount that can be applied to your move
2. See if moving companies in your area offer military discounts
Moving companies may offer military discounts to those who have served our country. For local moves, it is common for moving companies to take a percentage off the total move costs for military personnel. Those moving long distance or for duty can find greater discounts. Check out Move.mil for more information on discounts and moving companies who specialize in military moves.
3. Most moving companies offer senior moving discounts
Moving companies often struggle with breaking the mold when it comes to the stress that moving can bring. In an effort to change public perception, senior citizen moving discounts are often available. Moving companies that specialize in senior moving will know how to reduce the stress brought on by moving and can save you some money in the process.
4. Check moving company's referrals discounts
If you were referred to a moving company through someone who used their services before, you may receive a discount. Moving companies always appreciate business through word-of-mouth and sometimes offer savings to those who are referred. Ask your moving consultant if they offer a referral discount when you mention the person who recommended their services.
5. Family and friends discount
It pays to know people. If you know someone who knows someone that is related to an employee of a moving company, you may be able to take advantage of a family and friends discount. Mention the mover you know to your moving consultant to receive a discount off your move.
6 . Your employer may have a recommended moving company in their corporate perks
Larger companies often offer corporate perks to their employees. These perks include discount from local businesses and partners of the company. Check to see if your employer has a recommended moving company. This moving company will often come highly regarded and has offered office and residential services to the business in the past.
7. Repeat Customer Discount
If you are moving and received excellent service in the past, call up the same moving company. Moving companies love repeat customers and are already familiar with the details of your move.
8. Contact your real estate agent
Most real estate agents have a recommended moving company they do business with. Letting you moving consultant know that you were referred to them by your real estate agent can get you a discount off your moving costs.
9. Call and ask
You could always call movers to see if they offer any discounts. Sometimes their discounts are spelled out online. Simply asking a moving company about their discounts may save you some money and they can help answer any questions you may have.
10. Limited time discounts, based on availability
Moving companies peak season is during the summer months and they are most busy during the holidays. If you move date is flexible, see if moving companies offer discounted rates during their slow periods. Not every moving company offers variable rates depending on availability, but it never hurts to ask during the research phase of moving.
Moving Calculator's 5% Discount for those using Professional Movers.com
If you're moving within Professional Movers.com service area (Oakland, Wayne, and Macomb County) in Michigan you may qualify for 5% off your local move costs.
All you need to do is:
Calculate your estimated move costs using Moving Calculator
Print the confirmation email that is sent to the email you used
Present the confirmation email to the Professional Movers.com moving consultant that performs your free in-home estimate
Receive 5% off your total move costs at the end of your move
Confirmation Email Example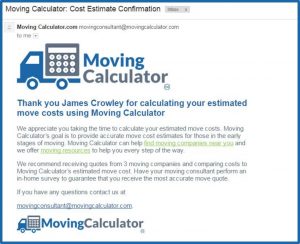 The Professional Movers.com Moving Calculator discount can only be applied to local moves under 40 miles between origin and destination locations. The Moving Calculator discount cannot be combined with other Professional Movers.com discounts.
Let others know about ways to get discounts from moving companies in the comments below.